The Kenosha Care Program – A VIP Experience
The first year of owning your new or used Honda should be filled with adventure and wonderful memories instead of worrying about maintenance. That's why at Honda of Kenosha, we have the Kenosha Care Program!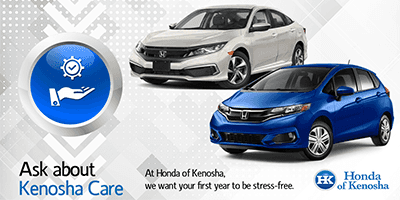 To us, every customer should have a VIP experience whether purchasing a new, used or certified pre-owned automobile. With the Kenosha Care Program, you'll get 2 free oil changes and one free tire rotation during the first year of ownership. Our state of the art facility and comfortable lounge including business area will make you forget you're even at a dealership when you come in for these perks. These are just some of the reasons that Honda of Kenosha stands out as a community-driven, locally owned and operated business.
Want to learn more? Fill out the form below to have someone contact you.